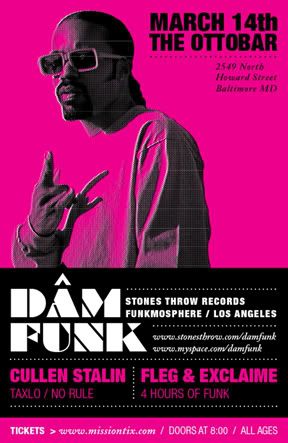 Dj Fleg and I are seriously honored to be opening up this Sunday for an incredible artists who goes by the name of Dam Funk. We would like to thank Taxlo and The Ottobar for including us to participate in this awesome event. Below is the full info for the party as well as a short bio of the man himself.
"Known as Los Angeles' "Ambassador of Boogie Funk," dÃm-funk represents the citizens of the Funkmosphere. Headquartered in the Culver City section of L.A., dÃm (pronounced: 'Dame' as in Damon) spent the last few years cultivating a musical renaissance rooted in the early-'80s styles known as Boogie, Modern Soul and Electro-Funk.
As a DJ/selector, DÃm attracts the most discerning Boogie Funk afficionados within driving distance of his storied Monday-night Funkmosphere parties. But it's not just collectors at the bar toasting to the melodic sounds. Anyone who grooves to the likes of Slave, Aurra, early Prince, Prelude Records and the like, will get a dose of those groups' unknown contemporaries" more obscure but equally Funk-worthy.
The next phase of the Ambassador's mission: continuing the classic West Coast tradition into today's scene with dÃm's own original "Modern-Funk" compositions. By plugging in his arsenal of vintage synths and drum machines, DÃm channels the galactic harmonies of his inspiration into his own brand of new boogie. Stones Throw Records' like-minded honcho Peanut Butter Wolf brought DÃm on to the team to glide into the future with his unique, synth and bass-driven vibe. It's a promising new chapter for Southern Cali space funk ... do yourself the service - align yourself to Dam-Funk's music and production - book him and watch the magic happen!
Dam-Funk's Stones Throw Records debut, 'Toeachizown', an epic 5 album box-set of over 2 and a half hours of Dam's infectious signature 'modern-funk' comes to full form. Out now to immense fanfare, garnering cover stories in both The FADER and L.A. Record, alongside glowing reviews in the Chicago Sun-Times, L.A. Times, SF Bay Guardian and more."
http://www.myspace.com/damfunk
with djs
CULLEN STALIN
FLEG & EXCLAIME (4 Hours Of Funk)
hosted by
SIMON PHOENIX AND CULLEN STALIN
8pm ALL AGES!
Get advance tickets here...
http://www.missiontix.com/events/product/8593/dam-funk
This is all going down at the world famous
OTTOBAR
2549 N Howard St
Baltimore City, USA
www.theottobar.com
produced by Taxidermy Lodge and Monozine
www.taxidermylodge.com